Now in its fifth year, our 100-Word Story competition is open to all First Story students, aged 11-18. Entries can be prose or poetry and can be on any theme. Judged by Vintage, the competition gives young writers the experience of crafting something to a specific brief, meeting a deadline, going through a selection process, and potentially achieving the first taste of publication success.
Thirty-five schools from across the country submitted a shortlist of three entries. A winner was chosen from each participating school, with one overall winner and one overall runner-up.
We're delighted to announce the 100-Word Story 2018 overall winner is Jaimie Brown from Titus Salt School in Bradford. Our 2018 overall runner-up is Lucy Cook from St Mary's College in Hull.
Jaimie and Lucy will each receive a pile of books from Vintage, for themselves and their school libraries, as well as having their 100-word stories professionally printed on specially commissioned postcards. The best entries from each participating school will also be printed on postcards, with each school winner receiving two prize books each from Vintage.
We are always delighted and honoured to be involved with First Story and to be invited to judge this competition. The 100-word stories make for fantastic reading, full of surprise, invention and creativity. It was very hard to choose, but we felt the finalists made best use of the restricted form, conjuring up vivid images and showing their own distinctive voice within just a few words. We want to congratulate everyone who submitted stories and encourage them all to keep writing and reading.

Frances MacMillan, Senior Editor at Vintage
Overall Winner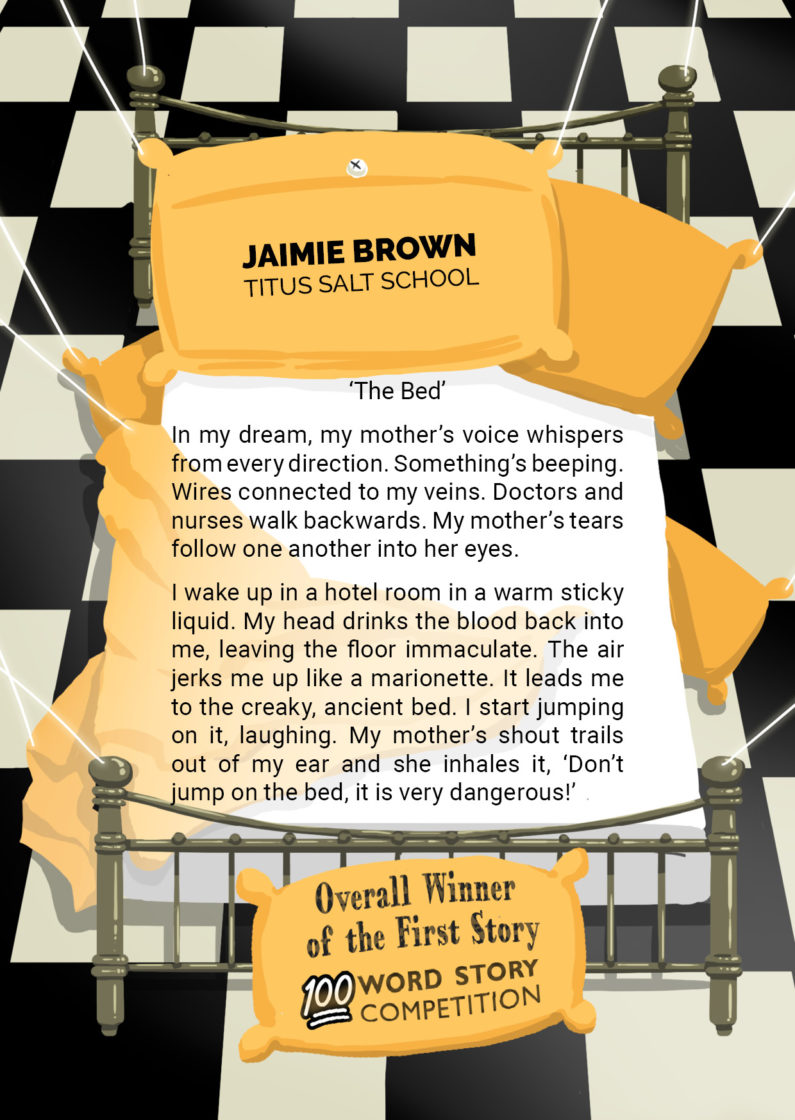 Feedback from the Judging Panel at Vintage
The Bed – It's a challenge to really tell a satisfying story in so small a space, but not only did the writer of 'The Bed' achieve this, they also managed a great twist on the idea. The story itself was simple but the back-to-front structure and highly visual style definitely wasn't, plus we liked the visceral detail and precise writing.
Overall Runner Up
Feedback from the Judging Panel at Vintage
I am Batman – this was funny, subversive, deeply weird and very memorable. It also managed to be touching and therefore won our hearts, and totally intrigued us. This person must keep writing!
Congratulations to all the young writers who submitted stories. It was a delight to read such clever, inventive and powerful writing, ingeniously confined to 100 words. The finalists' stories, The Bed and I am Batman, brilliantly exemplify brevity and originality, making for enthralling reading. First Story is continually grateful to Vintage for collaborating on this competition which encourages and celebrates young writers.

Charlotte Prendergast, Head of Learning at First Story
Take a look at the postcard designs for all the winning entries here.