We're England's leading creative writing charity for young people.
Although our office is closed for now, our transformative programmes continue.
First Story's flagship programme pairs professional writers with secondary schools in low-income communities, where they work intensively with students and teachers to develop creativity, confidence and ability.
Our intensive, extra-curricular enrichment provision encourages aspirations as it expands horizons. Participants develop skills and attitudes that underpin academic attainment and support achieving potential.
"Your potential is infinite and what you put in is what you get out. Doing First Story helped me to realise that."
– Abdi, First Story alumnus

A transformative experience for participating students. Inspiring support for teachers. An invaluable partnership for the whole school.
Anthologies
For more than decade, we've been publishing talented young writers from under-represented communities.
"First Story is a fantastic idea. Teenagers are under increasing pressure to tailor their work to exams, and to value themselves in terms of the results. First Story offers young people something else. It helps them find a voice. Creative writing can change people's lives; I've seen it happen. It's more than learning a skill. It's about learning that you, your family, your culture and your view of the world are rich and interesting and important, whoever you happen to be."
Mark Haddon
Parents and Guardians
We need IP Consent for your student to participate. Sign and submit your form here.
Latest News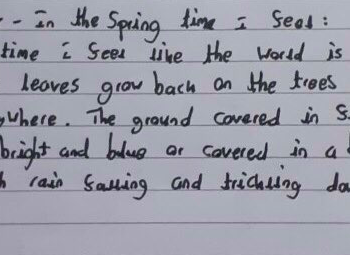 National Writing Day 2020 takes place on 24 June. With most young people at home due to the pandemic, this year's programme is being delivered digitally. Our NWD 2020 resource bank includes nine, feature-length creative writing video tutorials led by talented First Story Writers-in-Residence. We've been encouraging users on Twitter, Instagram and Facebook to give the tutorials a try and post new writing online. Here we highlight a small selection of the pieces shared during May via the hashtag #WriteFromHome.