The annual nationwide celebration of the pleasure and power of creative writing, driven by a coalition of leading literacy organisations and publishers, led by First Story.
The National Writing Day 2020 programme is dedicated to children and young people. All NWD activities are happening online — on Facebook, Twitter, Instagram and YouTube — and all resources are free to access. It's really easy to get involved and everyone's invited to join in.
---
Write From Home
Leading up to National Writing Day on 24 June, we are calling on young people to share original pieces of writing, via Twitter, Instagram or Facebook, using #WriteFromHome.
What has living through the lockdown meant for you? What have you been thinking, feeling or experiencing, through this unprecedented time? We want to hear your voices and we want to share your stories with the world.
Follow the hashtag on your social channels, or scroll National Writing Day's Twitter feed @writeday to see what others are saying and sharing–>
---
Video Tutorials
Need more inspiration or guidance, to put pen to paper? No problem—we've put together this series of awesome video tutorials, led by talented First Story Writers-in-Residence. We'll upload a new feature-length tutorial every week in the run up to National Writing Day, each led by a different writer, focused on a specific theme. With access to at least nine hours of free, one-to-one creative writing tuition by professional practitioners, what's stopping you?
---
My teacher advised me to watch this video and it's helping me writing my story!! Thank you First Story! I will advise my friends to come along and watch these videos as they are useful!

– Kerry, student, via YouTube
---
Teaching and Learning Resources
The National Writing Day partners have collated a bank of top-quality creative writing resources. Everything is free to download and share — use the drop-down arrows, below, to explore resources suitable for primary or secondary curriculum.
I absolutely love the work we do with First Story. We have already been sharing the National Writing Day resources and workshops with our students and will be celebrating it still in whatever ways we can, to keep supporting and encouraging our students to express themselves in writing.

– teacher @ Priory Witham Academy, Lincoln
---
NWD Ambassadors
The list of literary stars promoting National Writing Day this year includes current and former Children's Laureates, Cressida Cowell and Malorie Blackman; the National Poet for Scotland, Jackie Kay; Carnegie medal-winning screenwriter Frank Cottrell-Boyce; best-selling author Mark Haddon; two former First Story Writers-in-Residence, author and illustrator Laura Dockrill and poet Caroline Bird; playwright Vinay Patel; and children's author SF Said. Building-up to the big day on 24 June, ambassadors will be helping us highlight what's happening online, and encouraging everyone to get writing.
---
Register for updates
Join our NWD mailing list, and we'll let you know whenever new resources are published, give you a heads-up when activities are happening online, and share any related news. We'll only mail you about National Writing Day.
NWD 2019 highlights
The third annual National Writing Day took place on 26 June 2019. Thousands took part in our national call to action activity — a seven-minute free writing exercise, inspired by the prompt, 'In this place…'. Teaching and learning resources were downloaded 4,427 times, reaching an estimated 156,000 students. Through partnerships with the BBC and local media, press and PR reached an estimated 4 million people, while combined social media reach was 1.23 million.
---
NWD Partners
National Writing Day is a First Story initiative organised and delivered in partnership with arts and literacy organisations across the UK.
---
Related Content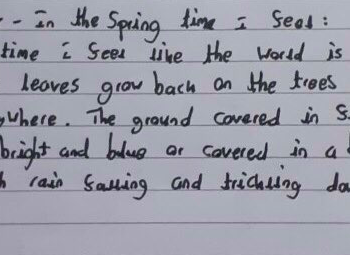 National Writing Day 2020 takes place on 24 June. With most young people at home due to the pandemic, this year's programme is being delivered digitally. Our NWD 2020 resource bank includes nine, feature-length creative writing video tutorials led by talented First Story Writers-in-Residence. We've been encouraging users on Twitter, Instagram and Facebook to give the tutorials a try and post new writing online. Here we highlight a small selection of the pieces shared during May via the hashtag #WriteFromHome.