Applications are open now for the 2020/21 Rathbones Folio Mentorships programme beginning this September.
Our exclusive partnership with the Rathbones Folio Prize offers a unique opportunity for talented First Story alumni to be mentored by an acclaimed Folio Academy author. Now in its 4th year, this programme supports promising young writers to develop their craft, working on a project of their choice. Mentees will receive one-to-one support and personalised feedback from their own dedicated mentor and, at the end of the year, an invitation to read at a public celebration event.
How to apply
To be eligible for a Rathbones Folio Mentorship, you must have completed First Story's Young Writers programme and be in Years 12 or 13 in September 2020. To apply, send an email to First Story's Jess Tickell. The deadline is Friday 31 July 2020. Good luck!
---
2019-20 Mentees' Stories
If you're considering applying, read on to find out how the programme has changed the writing lives of two of this year's mentees, Nidaa Raoof from Nottingham, and Mariamah Davey from Scunthorpe. You can also read a selection of writing by Nidaa and Mariamah published on the Rathbones Folio Prize website.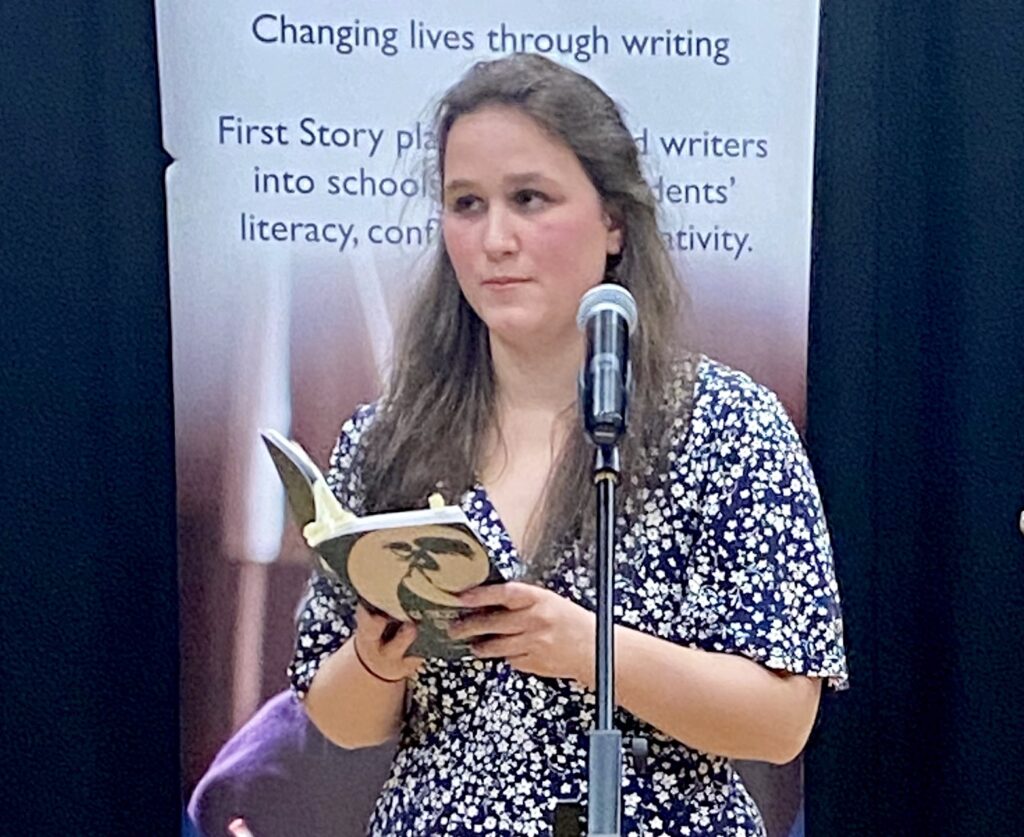 Mariamah Davey
Mariamah took part in First Story as a student at John Leggott College in Scunthorpe, working with the writer Joe Hakim. Her application stood out because, aged just 17, she came with an almost complete first draft of a novel. Mariamah's Folio mentor was acclaimed novelist Sharlene Teo. Over the course of an academic year, the pair have worked together to edit and strengthen Mariamah's manuscript, meeting face-to-face and sending drafts back and forth over email. They've chatted about everything from overcoming writer's block, to constructing imaginary worlds, and what might lie ahead for Mariamah when the programme ends. Mariamah says of the experience:
"Honestly the memories will stay with me forever. Before First Story I always doubted my ability as a writer and, as cheesy as this may sound, it has changed my life. I always thought creative writing was a little hobby that would get me nowhere. I never saw it as a career path. Now, I am very passionate about it. I know it's something that I can do. I finally believe I can do this!
Since starting First Story and being accepted onto the Rathbones Folio Mentoring programme, I feel like my journey at John Leggott College has changed. I almost feel like John Leggott College has been my own personal creative writing college.
I remember the day before I got the email saying that I had been accepted onto the mentoring programme, I was really down and angry about life. I had to go to the shop in the pouring rain (proper pathetic fallacy moment!) and I decided to walk another way home, a way I'd never been before. There was this massive graffiti on a garage wall and it said 'you choose your own destiny' and honestly, as stupid as it sounds, that felt like the universe was telling me, 'you're gonna be okay, Mar'. The next day the email arrived!
The experience has truly opened me up to new things I never would have had anywhere else. Once my novel is published, (not if!), you guys will definitely be among my first acknowledgements. I couldn't have done it without First Story. It has given me the push I needed. Thank you."
---
Nidaa Raoof
As a student at Nottingham Academy, Nidaa took part in First Story's programme with poets Jim Hall and Ioney Smallhorne. Her confidence flourished in the First Story group and she's remained in contact, to support and mentor younger students. Rathbones Folio Mentorships paired her with prize-winning novelist and playwright, Lucy Caldwell. Lucy and Nidaa struck up an instant rapport. Over the course of the year, they've visited exhibitions, attended the theatre, and explored many writing forms, from flash fiction to poetry, as well as submitting work to competitions. Nidaa recently told us what the experience has meant to her:
"Working with Lucy was the most inspirational journey I've ever taken! Having her by my side made me approach my writing with more confidence and creativity. She helped me to search for the creative ideas that I already had, but just never knew.
Lucy helped me convey the message of each poem as clearly as possible. She challenged me to write about things I wouldn't normally write about, for example my cats, the weather, and writing in the perspectives of objects. She introduced me to postcard stories, inspired by the work of Jan Carson, which was very new to me. I hadn't written short stories for years so this was the perfect challenge. I wrote one postcard story every day for a month, which were all written for specific people. Some were poems and some were fairytale twists. It quickly became my favourite thing.
We also decided to create a public Instagram page for my poems @worlds_to_come. This was the best challenge yet because I had never shared my writing on social media, let alone with absolute strangers! But once again, Lucy was right – it increased my confidence in my work and it felt good that others were reading them every day.
My ambitions would be to publish at least one anthology of my own poems and to inspire others through my writing. The mentorship has made me realise exactly what I want in a writing career – to be as successful as the mentors who are in this programme. Lucy has shown me how she continues her writing with a busy family life which is something I also aspire to do.
If you are considering applying for the mentoring programme, I would say, go for it! After applying for the mentorship, the email I received to say I had been selected was the best feeling ever! From there my life changed. I'm now writing more than ever before, because I took a chance. I'd encourage everyone considering the mentorship to apply, as you never know what kind of incredible things this opportunity could do for you."
---