Rose took part in the programme at Lincoln Castle Academy. She was awarded a fully-funded place to attend our summer residential programme at Arvon. She continues to write and has shared her work at the Young Writers' Festival.
"I signed up for the First Story programme because I wanted to have a creative outlet outside of English lessons. I wanted to be able to express my views and to create something that didn't have any criteria that had to be met.
When I first met the Writer-in-Residence I thought he as a person with lots of character and humour, but also someone that you could go to for advice. This drew parallels with how he treated our writing, providing feedback whilst maintaining our own creative vision.
The first piece I felt proud of writing was Paper Swords. It's about how even our earliest childhood memories teach us lessons that determine who we are in the future.
The best thing about doing the programme was forming a small community of like-minded people, where everyone's views were met with consideration and respect.
When I found out I was chosen for the Arvon residential week, I was unsure at first because it was out of my comfort zone. But those concerns were unfounded. I created some of my best memories during the residential. What I got most out of Arvon was being exposed to a myriad of writing styles and with them came a collection of amazing personalities. It took moments for us to act like we had known each other forever.
Since participating in First Story, what has changed for me is the amount of opportunities available. In my own writing, I can see I have progressed so much and that can only serve to benefit me in the future.
My ambition for the future is to continue to learn more about the world. I have changed m mind numerous times in regard to what i want to do in the future. I am currently considering a career in medicine, as it would allow me to have an impact on other people's lives."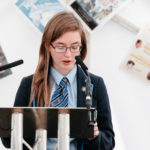 Rose
alumna