On 29 March 2022, almost 300 diverse young writers travelled to the University of Cambridge to attend our Young Writers Festival. It was our first major live event following two years of digital provision during the pandemic. Headlined by celebrated author Patrice Lawrence MBE, the day included writing workshops, led by our talented authors, poets and playwrights, plus a university campus tour, and culminating with a young writers showcase.
Hosted by Khadijah Ibrahiim
Poet and First Story Writer-in-Residence Khadijah Ibrahiim kicked off the day, warming everyone up for the writing workshops ahead with an easy exercise written on Post-it notes: "Yesterday was… Tomorrow will be… The future is….". She also introduced us to some of her favourite lyrics by the rapper Naz! Khadijah is the Artistic Director of Leeds Young Authors and the producer of Leeds Youth Poetry Slam Festival.
Headlined by Patrice Lawrence MBE
The opening plenary on the Lady Mitchell Hall stage featured hugely popular YA author (and First Story Ambassador) Patrice Lawrence in conversation with three First Story students. Patrice has written nine books, including Eight Pieces of Silvia, Orangeboy and Splinters of Sunshine. She's been awarded the inaugural Jhalak Children's & Young Adult Prize, the Waterstones Prize for Older Children's Fiction and the Bookseller YA Prize.
Three First Story Young Writers Programme participants were invited to interview Patrice Lawrence. Our selected co-chairs — Ash from Bradford, Maisie from Nottinghamshire and Maisha from Tower Hamlets — prepared really smart questions, drawing great anecdotes and insights from our Ambassador. Their wide-ranging discussion covered Patrice's writing process, how she overcomes writer's block and develops her characters, her advice for young writers and so much more — from thoughts on the curriculum to diversity in publishing.
Workshops with First Story writers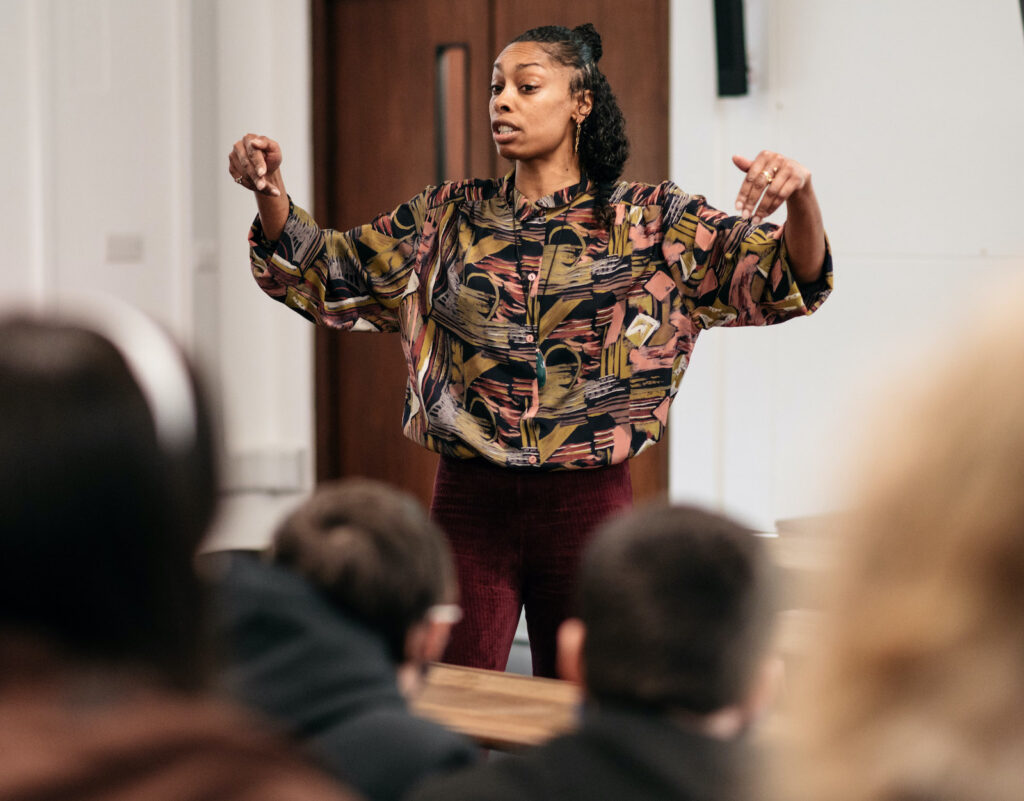 Students at the festival each took part in two small-group workshops during the day — a chance to meet other young writers and learn from unfamiliar practitioners. Workshop facilitators were Dan Simpson, Xanthi Barker, Jamie Thrasivoulou, Jim Hall, Sonya Hundal, Paula Rawsthorne, Owen Craven-Griffiths, Andy Craven-Griffiths, Becky Cherriman, Nick Toczek, Irene Lofthouse, Emily Diamand, Dan Ingram Brown, Nik Perring, Ben Mellor, Khadijah Ibrahiim, Joe Hakim and Ioney Smallhorne.
Young Writers showcase
The festival culminated with everyone returning to the main hall for a special showcase event. Participants volunteered to take to the stage and share writing they'd produced during the day. It was a truly supportive and encouraging atmosphere, showcasing some powerful, funny and original creative work.
Alumni talk
First Story alumna, Habiba Desai, gave an inspiring talk on the Lady Mitchell Hall stage. She shared her story with festival participants, from taking part in the Young Writers Programme at her school in Bradford, to founding her own independent publishing company. Read Habiba's story here.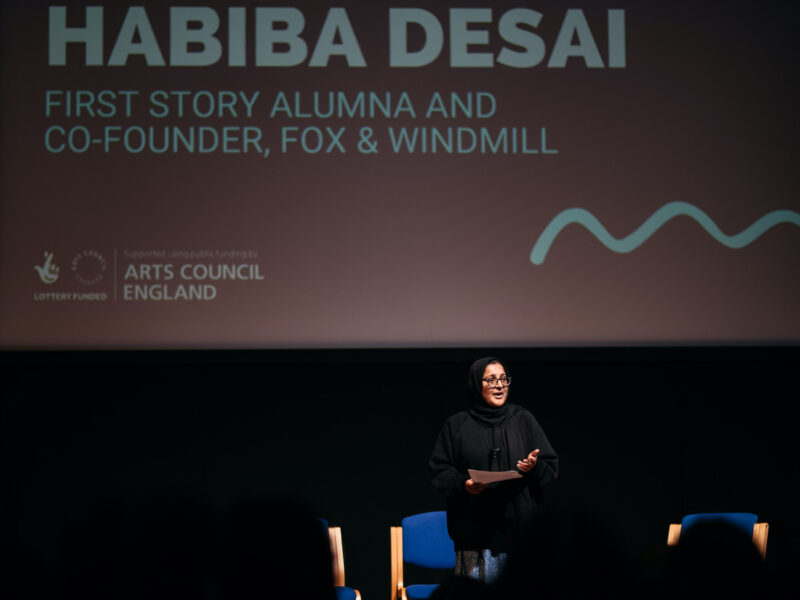 Cambridge campus tour
Guided by current undergraduates, First Story students took part in a tour of the University of Cambridge's Newnham College and Gardens, learning about its history as the alma mater of writers including Virginia Woolf, A.S. Byatt and Germain Greer. It was an opportunity to explore higher education possibilities, find out more about undergraduate life from volunteers, and think about one day studying at Cambridge.
Participants feedback
100%
of respondents said that they learnt new writing skills as a result of attending the festival.

90%
of respondents said they valued and benefited from working with new and different writers.
92%
of respondents valued visiting Cambridge University and touring the campus.

87%
of respondents felt part of a community of other writers at the festival.