As an independent, not-for-profit publisher, all proceeds from sales are re-invested in our life-changing creative-writing programmes in schools.
Book of the month
---
The Day Is Fresh
by the Rathones Folio Mentees
This remarkable anthology of creative writing showcases the talents of fourteen alumni from the Rathbones Folio Mentorships programme, run in association with First Story. Founded in 2017, each year the programme pairs a group of phenomenally talented students – who have taken part in First Story's in-school writing programmes – with writers from the Folio Academy, for a year of one-to-one creative writing mentoring, during which the mentees work on a portfolio.
For the first time, The Day Is Fresh presents the mentees' work in print. Inside, you'll find fiction that ranges across fantasy, thriller, and realism; you'll find bright and illuminating flashes of experimental prose; and you'll discover dozens of pages of poetry that, like all exceptional poetry, will cause you to look at the world afresh.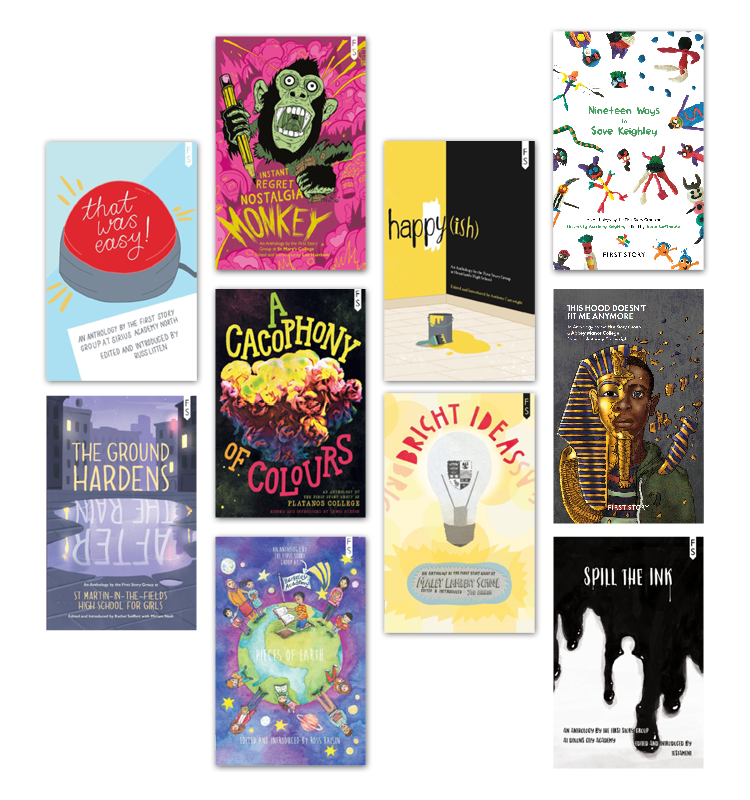 Anthology Subscriptions
You can help to fund our life-changing creative writing programmes by signing-up to a regular subscription. Every two months we'll send you our pick from this year's best anthologies, featuring impressive new writing by talented First Story students.
Newly Published Anthologies
First Story Merchandise
Support our work and look stylish with some of our branded merchandise: tote bags, notebooks, postcards, pencils and holiday cards.