---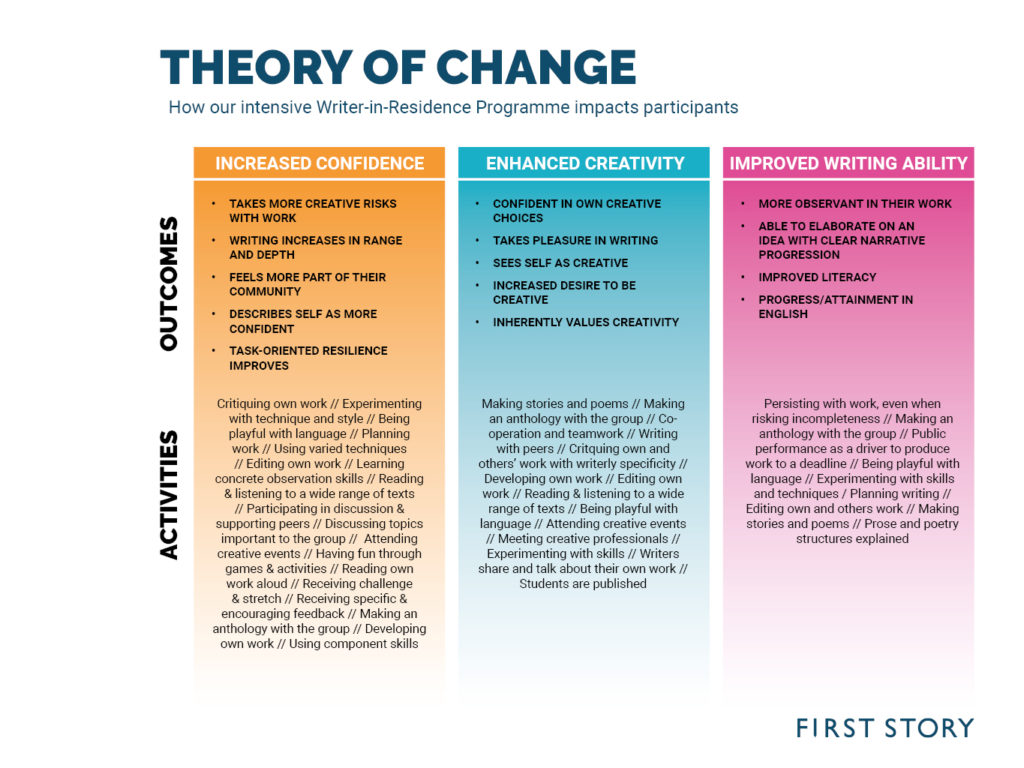 Our Evaluation Methodology
Students who participate in our intensive programmes complete start- and end-point surveys.
We also collect two samples of students' writing: one at the beginning of the programme and another from the final anthology.
We interview the group's teacher too, for their assessment of students' improvement against their start points.
---
Impact Case Study
Belle Vue Girls' School
Between 2016 and 2018, we tracked progress in detail at Belle Vue Girls' School in Bradford, as they worked with our Writer-in-Residence Emily Diamand. Students were selected for the programme on the basis of their results at the end of year 9, with underperforming students of mixed ability invited to join the First Story group.
71%
of students made academic progress over the year
53%
had closed the gap considerably, working on or above the national average in English
57%
of Pupil Premium students made progress over the year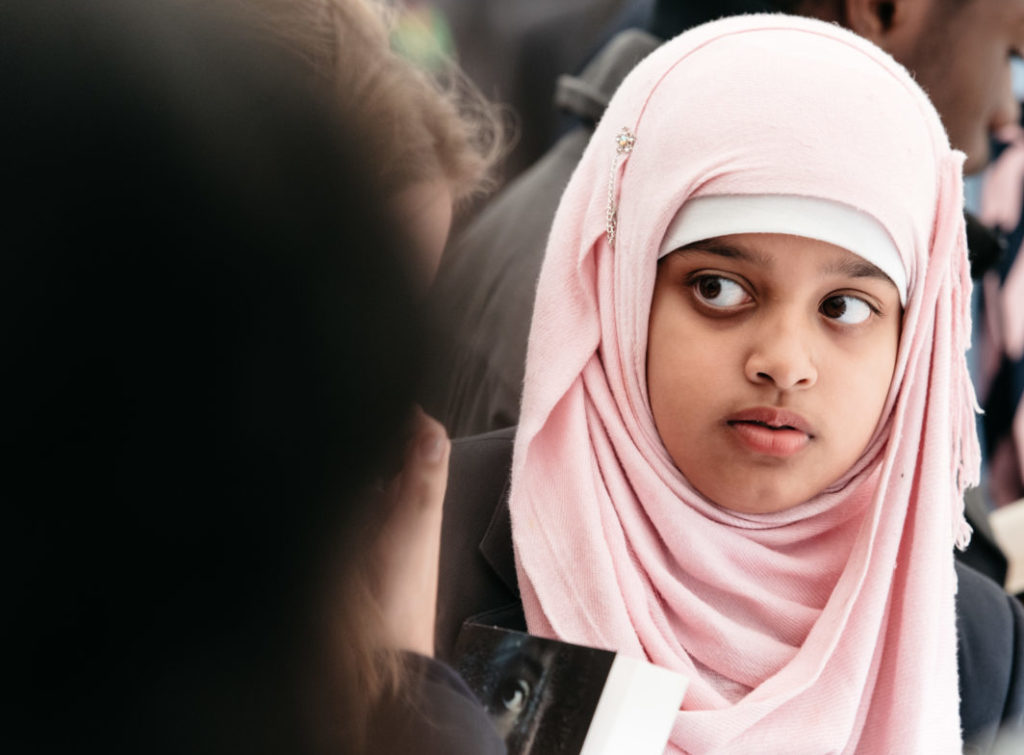 Belle Vue tries to measure more than academic progress and their lead teacher noted many other positive impacts on students:
Engagement and attendance remained excellent throughout.
Students increased in confidence in approaching imaginative writing tasks for GCSE English.
Students developed greater emotional intelligence, becoming more reflective about themselves and their lives, and tackling difficult topics with sensitivity.
First Story's programme extensions broadened horizons as students met new people from different backgrounds and developed greater independence.
---
Outcomes for students: the teachers' perspective
Data from external evaluation conducted by LKMCo between 2015 and 2018
90%
of teachers believed that participating in First Story improved students' ability to express themselves
100%
of teachers believed that taking part in First Story had improved students' wellbeing
80%
of teachers saw first-hand that participation improved students' attainment
---
Outcomes for Teachers
Teachers play a vital role in sustaining the long tail of impact. Lead teachers are expected to participate fully in First Story workshops, writing alongside students. Those who have are more likely to say they feel confident they have the tools and resources to teach creative writing to a high standard. Many teachers have also told us First Story rekindled their 'lost love' of writing!
Our year-long Writer-in-Residence programme includes a free CPD session for teaching staff at the school. Our writers will lead a 60-90 minute workshop for up to 21 staff, exploring strategies and techniques to use in the classroom.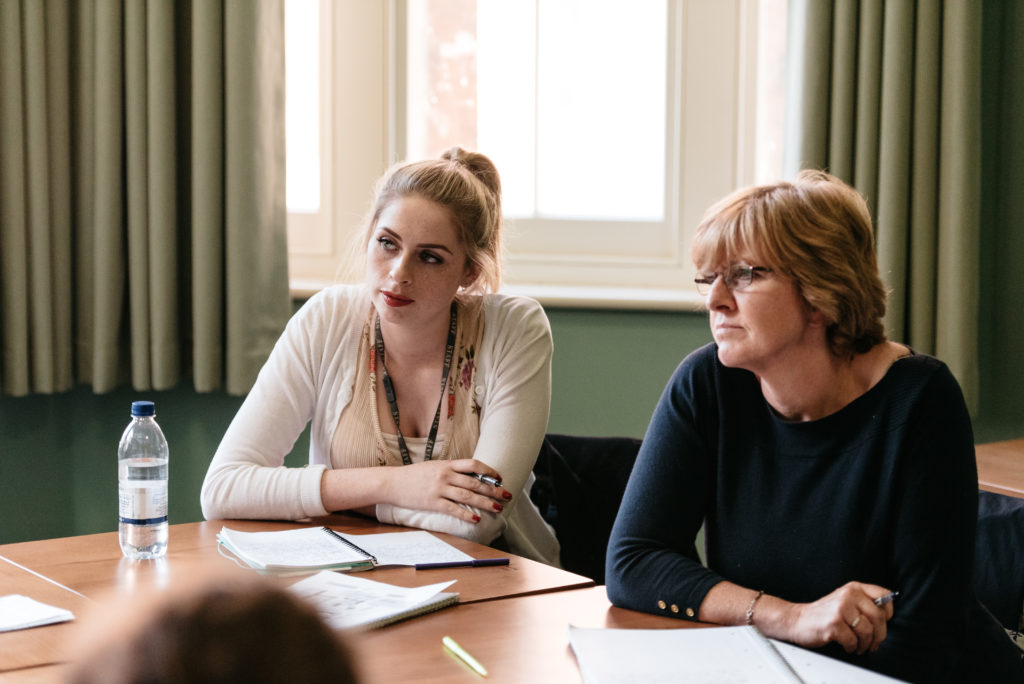 "I can say honestly that I have learnt so much from my involvement with First Story; from gleaning inspiring teaching methods to being inspired to hone my own creative voice."
Lorna Dodds, teacher, Quitin Kynaston Community Academy
Whole School Impact
We're continually striving to expand our reach — to engage more students, teachers and schools leaders — and to deepen our legacy and sustainability of impact. Our residency programme provides tools, resources and advice to support writing across the whole school.
---
Evaluation Reports
In 2015-18 we ran two separate evaluation projects to assess our impact, in conjunction with Arts Council England's Creative Writing in Schools.
CREATIVE WRITING IN SCHOOLS
FINAL REPORT — FEBRUARY 2019
This three-year research project conducted by LKMco, a youth and education think tank, confirmed that young people and educators receive great benefit from First Story's presence.
The Practice of experienced First Story Writers
by Pat Cochrane — AUGUST 2017
During 2016-17 Pat Cochrane, a former CEO of Cape, observed the pedagogy of eight of First Story's most accomplished writers. Her report found that our writers were highly consistent in their practice. They treated young people as creative partners and gave them the necessary space, permission and support to grow as creative writers.