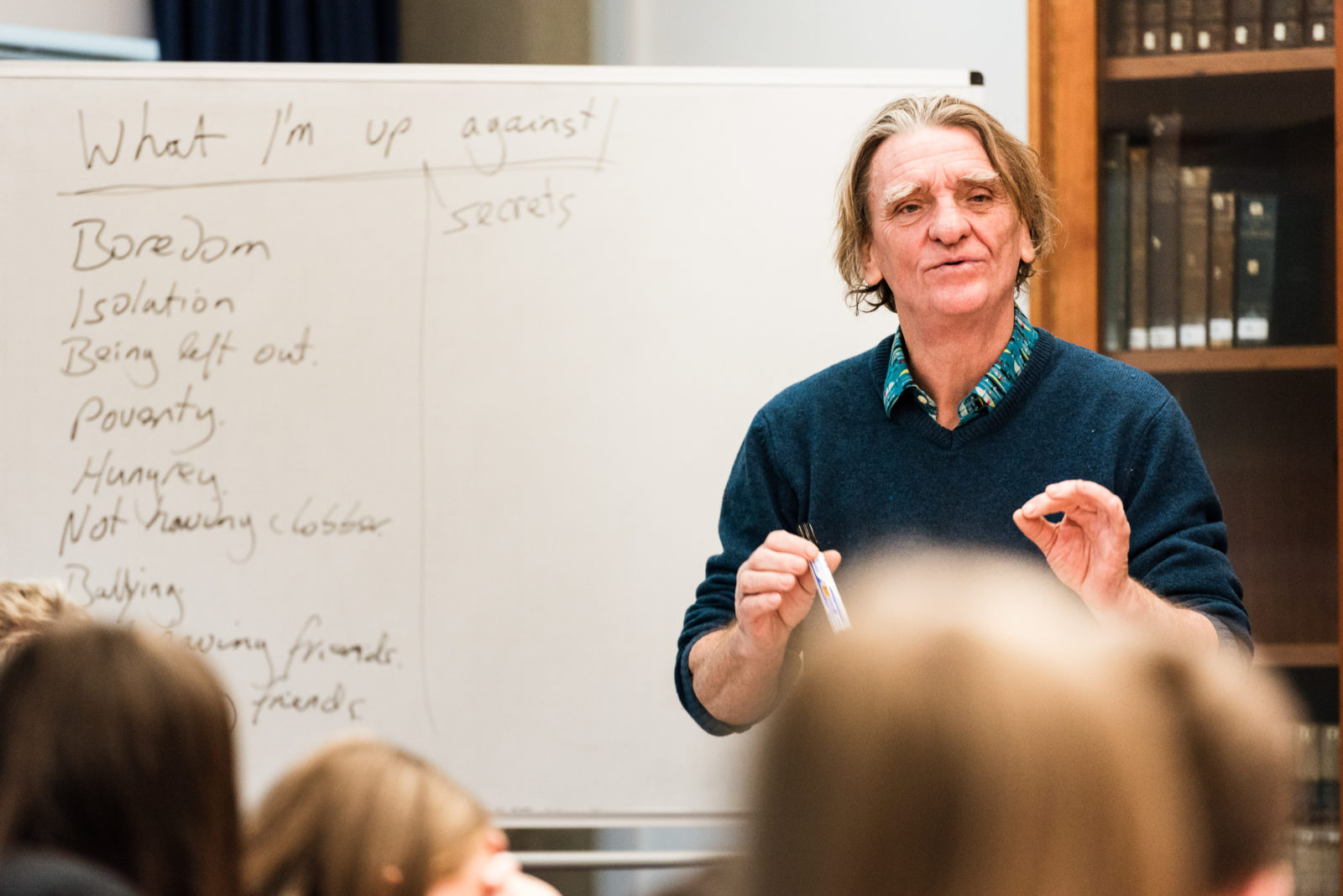 Writers-in-Residence
First Story's writers are all published authors, poets and playwrights with performance and teaching experience. Our training and support model ensures a consistent high-quality experience for both students and staff. As well as facilitating writing workshops and editing an anthology, Writers-in-Residence act as an inspiring presence in the school, from participating in events to working closely with teaching staff.
Publishing
First Story's Young Writers programme transforms participants into published authors. Our intensive writing workshops culminate in the production of a professionally designed and printed anthology. First Story has been publishing for over a decade, supported by talented professional editors, designers, typesetters and printers. Each book has its own ISBN and is included in the collection of the British Library. Copies are gifted to all featured young writers and to the school's library. Each school's publication day is celebrated on social media and we support schools to organise book launch events.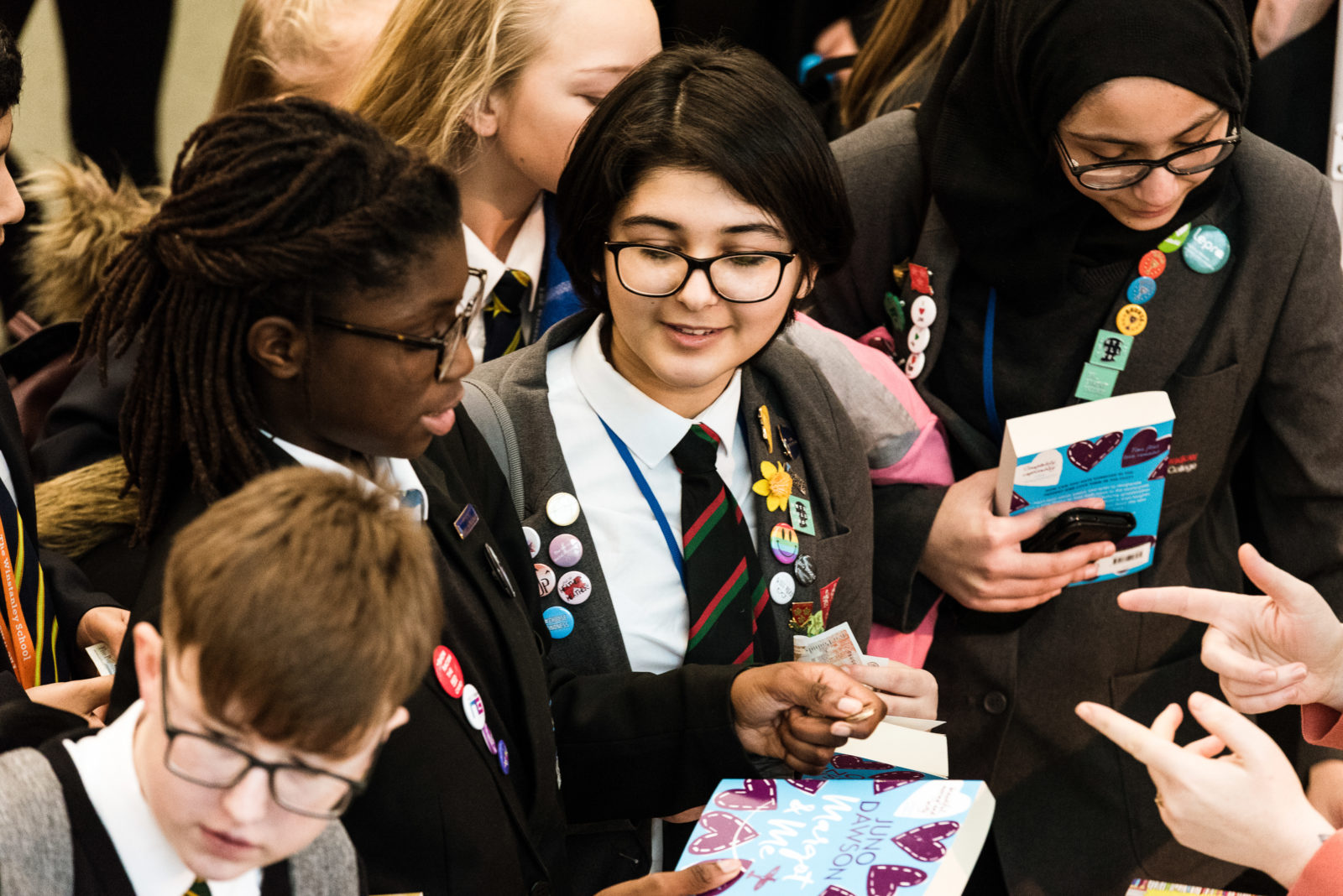 Young Writers' Festival
Open to all First Story participating schools, our annual festival brings together hundreds of young people from across England, for an inspiring day of writing workshops, plenary sessions and readings. Held at the University of Cambridge, the Festival is a unique opportunity for young people to engage with literary world conventions. Keynote speakers have included Malorie Blackman, Philip Pullman, Michael Morpurgo, Grace Nichols, Mark Haddon, Patrick Ness, Jackie Kay and Juno Dawson. There's also an affordable bookshop, plus a dedicated CPD session for teachers.
Competitions
Being recognised in a competition – knowing someone read your work and saw merit in it – is incredibly validating. Our regional and national competitions, from Six Word Story in the autumn term, to 100 Word Story and Writing Stars in the spring, are invaluable confidence boosters, giving young writers the self-belief and encouragement they need to keep going. Prizes for winners and runners-up include stories printed on pencils (Six Word Story) or specially designed postcards (100 Word Story), plus books given both to students and schools' libraries.
Events
Staged in collaboration with prestigious universities and arts venues, our regular programme of regional and national events aims to inspire young writers' creative practice in new and engaging spaces. First Story's mid-programme events connect young people to each other, as well as to cultural provision in the places where they live. We design events that will boost students' sense of entitlement to access 'establishment' spaces, build cultural capital, and promote higher education pathways. Participation encourages aspirations and expands horizons.
National Writing Day 
National Writing Day is our annual celebration of the pleasure and power of writing creatively, inspiring all ages and abilities to try writing for fun and self-expression. Each June, we partner with some of the leading literacy organisations and publishers in England, to create a programme dedicated to schools. With our support — plus access to free, high-quality resources produced by leading education experts — everybody can participate and the whole school can celebrate writing together.
Summer residential course
First Story's summer residential is a life-changing opportunity for a group of talented young writers, who are invited to spend a week at a prestigious Arvon writing retreat in rural Yorkshire. All First Story participants may apply for a place. In partnership with our funders, teamArchie, 16 students who have shown great potential in their writing are offered fully-funded places to spend the week at Arvon, learning from talented professional writers.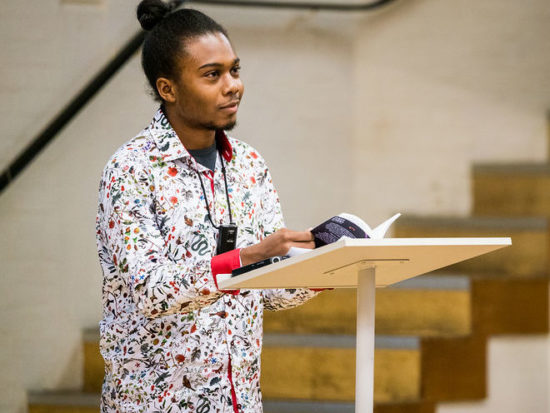 Alumni progression routes
Post-programme opportunities for First Story students include Rathbones Folio Prize mentorships, an ambassadorial role with public speaking opportunities, and sign-posting to competitions, awards and work experience placements.
Support for teachers
Equipping teachers with the confidence, knowledge and skills to teach creative writing is central to our mission. Honed over more than a decade, First Story's pedagogy is outstanding. Our writers share freely their expertise and resources. Working with First Story typically leads to increased enjoyment of creative writing by teachers themselves, as they build their own confidence and skill as practitioners.